Shopping Cart
Your Cart is Empty
There was an error with PayPal
Click here to try again
Thank you for your business!
You should be receiving an order confirmation from Paypal shortly.
Exit Shopping Cart
The Home Inspector's Blog
Breathe Easy: How to Keep The Air in Your House Clean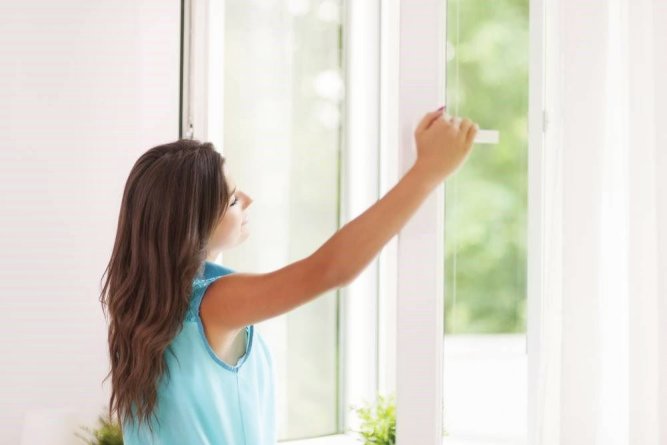 When older homes were constructed, they had lots and lots of natural ventilation, also known as drafts. Older homes provided as many as six to eight air changes every hour, meaning that the home was so drafty that all the air inside was exchanged with outside air that many times in an hour. While this made it helpful to breathe easy, it wasn't so great for your carbon footprint.
Today, new homes are built and maintained tighter. Installing new windows, increasing insulation, and sealing with caulk is just a few Money Pit adventures aimed at keeping drafts out. The unintended consequence has been a rise in indoor air quality issues and has made it difficult to breathe easy.
Mold: What You Need to Know
People panic over mold. Buyers are frantic about it, sellers are frightened of it, real estate brokers are intimidated by it, and home inspectors are leery of it. People are moving out of their homes, and some are even having their houses demolished because of mold growth.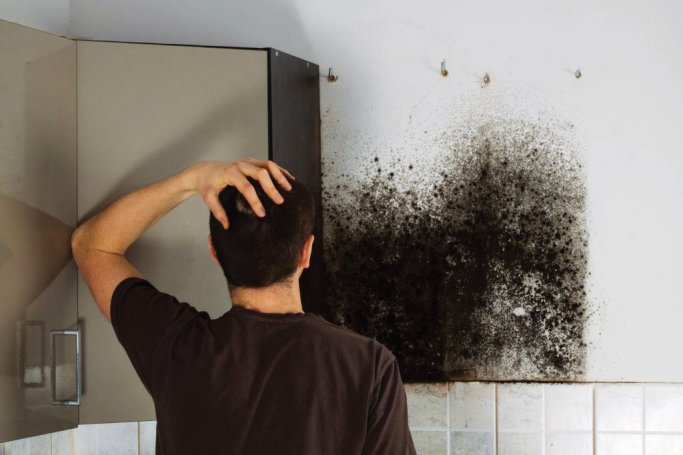 Mold is today's bogeyman, not without reason, as we've all seen in areas hit by hurricanes in the last few years. Even without natural disasters, mold can build up in a home in very unhealthy ways. Mold spores make their first uninvited appearance in your Money Pit through the tiniest gaps you ever chased with a caulk gun…or sometimes just by sashaying right on in the front door or a window. Once inside, it's party time, with spores able to grow on clothes, shoes, toys and even the family pets. They are so tiny, that once airborne, it's easy to inhale them deep into your lungs and land on surfaces throughout your home only a qualified mold expert could find..
Some molds are harmful while others are benign, and how mold affects you depends on your own personal sensitivities. To avoid attracting it altogether, you have to know what makes it tick: moisture, air, and food. The food part can be anything organic from dust to starch-based wallpaper paste, and when you think about it, scores of similar diners are open 24/7 throughout your home. These are our top 10 tips to avoid mold to help you to breathe easy in your home and prevent mold from occurring.
Off-Gassing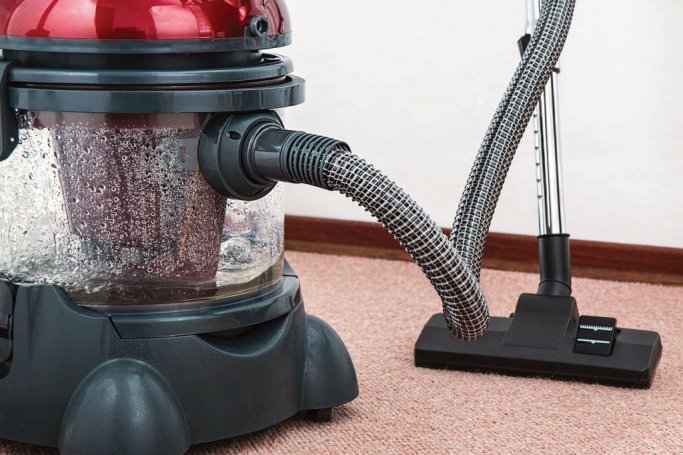 Another indoor environmental threat to be aware is off-gassing, which is more than just term to make your kids giggle. Off-gassing is the release of volatile organic compounds─VOC's, to use industry parlance─contained in finishes, adhesives, and fabrics into the air.
Fortunately, many manufacturers are responding by making products that are free or at least low in VOCs, so look for those options when you shop; also think ahead and prevent later development of air quality issues by choosing such products as paperless drywall (remember how it resists mold?). Whatever the content of furnishings you choose, plan on airing them out for a few days before bringing them inside. If you're planning to upgrade your home's carpeting, ask the dealer to unroll and air out the new carpet (another great tip to help you breathe easy) for at least one day before it comes home. You can also cut down on dust during removal of the old carpet by vacuuming it well before the installation crew arrives.
Humidity Management to Help You Breathe Easy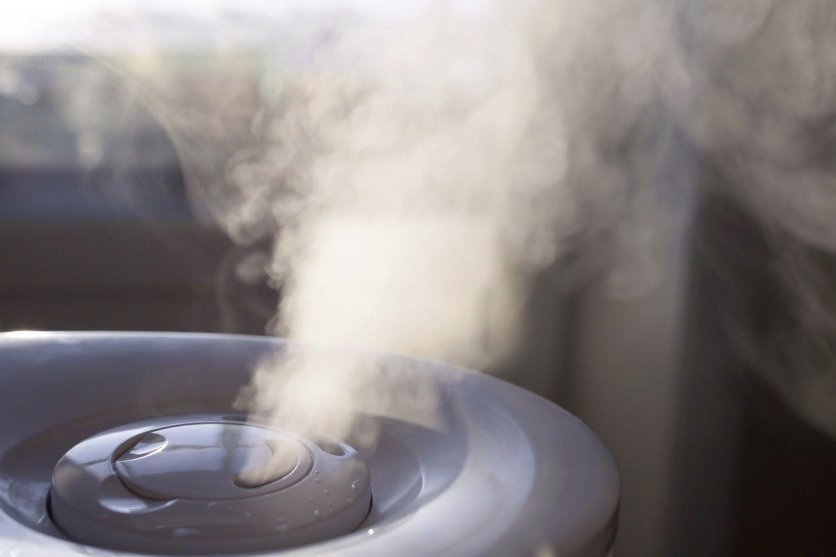 The healthiest, most comfortable homes have moderate humidity levels—not so dry that you buy Jergens by the drum, but not overly moist, either, which increases your discomfort, along with the potential for very bad things to grow and thrive.
We strongly recommended a humidifier if you live in drier climates or you've got a forced-air system. Keeping the air at a comfortable level of moisture reduces heating and cooling costs.
There are basically three types of humidifiers: flow-through, drum and spray. Drum humidifiers have rotating parts that frequently break down, and since water collects in the pan underneath them, they can also breed mold. Spray units aren't much better, as they spray water directly into the air above the furnace where it often drips down and causes rust damage to the furnace itself. The best style is flow-through, in which water trickles over a coil and evaporates into the warm air. Better models even include computerized controls that measure inside and outside temperatures and calculate just the right amount of humidity based on current weather conditions. The Aprilaire Whole-Home Dehumidifier can remove 90 pints of water a day from your Money Pit, leaving you cool, dry and comfortable.
Clearing the Air About Air Cleaners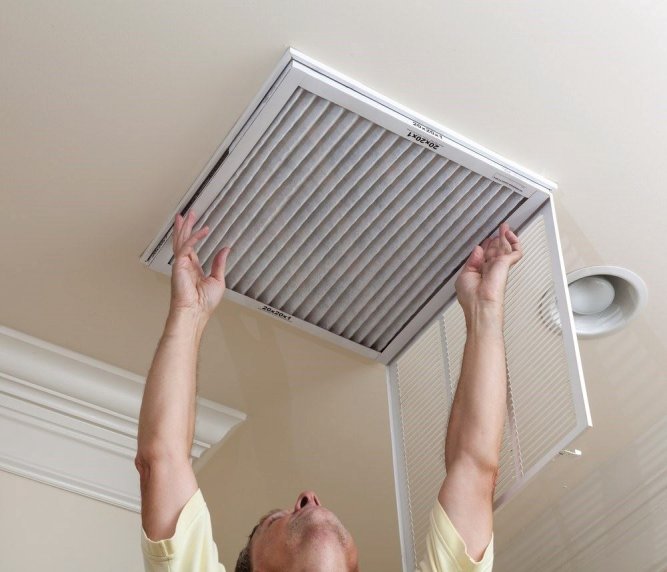 Regularly changing the filters in your forced-air system is step one in maintaining indoor air quality, and you can go several steps above and beyond by incorporating a whole-house air cleaner. It's a smart upgrade to consider when it's time to replace your current system, and we know homeowners who can tell the difference after having one installed.
Installed by an HVAC pro, whole-house air cleaners are part of forced-air systems, virtually eliminating such airborne contaminants as dust, pollen, pet dander, and bacteria. Today's systems are so good that they can trap virus-size particles, and can help you to breath easy in your home. Whole-house air cleaners are also attractive in their low cost and the efficiency they contribute to your heating and cooling setup and only require annual maintenance.
How to clean your dryer ductwork.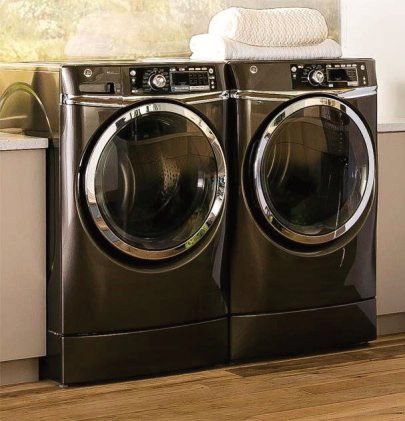 According to the 
US Fire Administration
, 2,900 home clothes dryer fires are reported each year and cause an estimated five deaths, 100 injuries, and $35 million in property damage. Failure to clean the dryer is the leading cause.
The most efficient and safest dryer ducts are the 4-inch rigid metal ones. The smooth interior of these pipes reduces air flow drag and lint buildup. The flexible white plastic hoses are inefficient and a fire hazard; they become brittle from the heat.
There are also flexible metal hoses, although they tend to build up lint and are best used for connecting the machine to your rigid metal ductwork.
Determining whether your dryer duct is full of lint and in need of cleaning can be straightforward. The clue is noticing whether your clothes dryer is taking longer than usual to dry its contents. If this is the case, you either have an airflow issue or a defective heating element. If your clothes come out hot after the last cycle, then you can probably rule out the heating element.
Inspect the exterior vent flap when the dryer is in use. Make sure there are no obstructions like bird, mouse, or bee nests. The air velocity should open this vent wide. 
If the exterior flapper barely opens, then your airflow is minimal and your duct probably needs to be cleaned, shortened, or both.
When dryers are located a short distance from an outside wall, the straight duct run works well, requiring little maintenance and making inspections easy. Many laundry rooms today are deeper inside homes, however, which means long runs and several elbows, often resulting in restricted airflow.
As far as cleaning your ducts, I've seen people use a shop vacuum from both ends of the dryer vent duct. One home inspector friend of mine uses a battery-powered leaf blower on the inside and a shop vacuum on the outside with good success.
I use a dryer vent-cleaning kit. You can purchase one online or at your hardware store for about $40. These kits are designed to be used with a drill. An auger brush attaches to a flexible rod. The brush head is bendable to get in tight spaces and has a plastic round nose that allows it to navigate in and around pipe elbows. The rotating action of the self-feeding auger brush and flexible rods scours the entire vent surface. The flexible rods are typically 36 inches long. A kit typically comes with enough flexible rods to clean a 12-foot duct.
Steps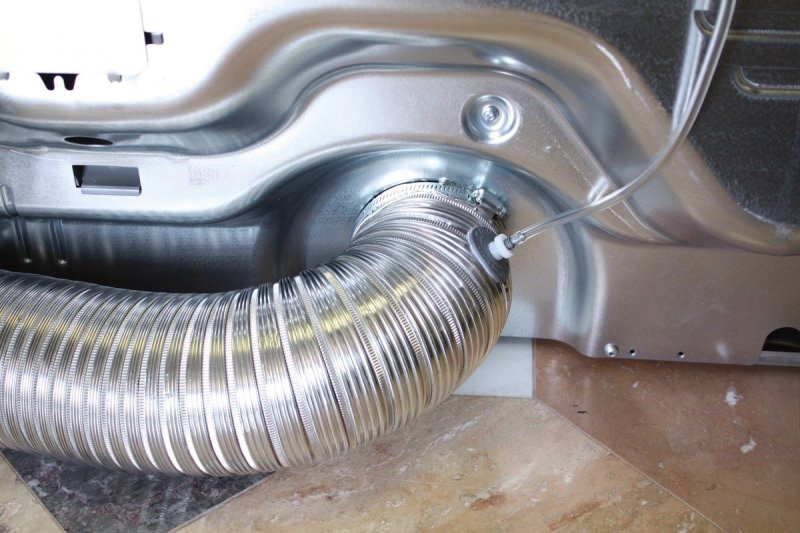 Determine whether it is easier to clean the dryer duct from the inside of the house or the outside.
Be sure to wear a dust mask and the proper eye protection.
Unplug the dryer from the power source and pull it out from the wall. Detached the dryer duct connection. Use care with gas connections.
Attach a flexible rod to the drill and set your drill to spin clockwise at a middle setting.
TIP: As you add more rods, wrap the connections with electrical tape. Do not use your drill in reverse, or the rods will detach.
Slowly turn on the drill and move the brush in and out, allowing lint to come back toward your direction and, preferably, into a vacuum.
If you are cleaning the dryer duct from the outside, remove the dryer hood, if possible. If you can't, use a paper clip to hold open the flapper.
After cleaning the ductwork, reattach it to the dryer and replace the hood. Plug the dryer back in.
TIP: Turn on the dryer and allow all of the loose debris to exit the pipe. Run the brush through the pipe once or twice with the dryer running.
Remove and clean the lint trap.
Rob Robillard is a general contractor, carpenter, editor of AConcordCarpenter.com, and principal of a carpentry and renovation business.
When Should You Replace Your Furnace?
No one wants the furnace to break down during winter. Here are the obvious and subtle signs to watch for before your furnace goes out.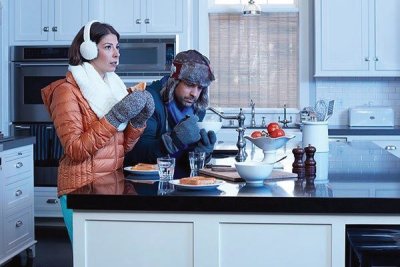 With a change in the calendar comes an inevitable change in the weather. As colder air creeps in, you'll want to be sure your furnace is up to the challenge. Of course, not all household breakdowns come with warning signs; but your furnace could be warning you it's time for a replacement. Here are the key signs to watch out for:
You Have An Old Furnace
Household systems and appliances don't last forever. The average lifespan of a furnace is typically between 20 and 30 years old. If your home is around that age and you still have the original furnace, you should be preparing yourself for the inevitable. It may be time for an upgrade.
Your Energy Bills Are Going Up 
The rise in energy costs may not be the only reason your heating bill is going up each winter. Over time, furnaces lose efficiency, particularly if they haven't been regularly maintained. As time goes on, you may find you need to run your furnace longer to get that same toasty, warm feeling. Naturally, the longer you run it, the more oil or natural gas you use. Instead of spending so much on your monthly utility bill, it might make more sense to invest in a new energy-efficient model.
You Constantly Adjust The Thermostat
If some rooms are toastier than others and you have to turn up the temperature in cooler rooms to compensate, it could be that your furnace can't properly distribute the air throughout the house to maintain a consistently warm temperature. 
Your Home Smells Stale
Older furnaces aren't great at cleaning and moisturizing the air. Sometimes, homes with older furnaces also accumulate dust and other airborne allergens -- like pet dander -- more easily. Poor indoor air quality is nothing to sneeze at. Viruses can actually linger in your home when air isn't what it should be. Even your plants can be droopy when the furnace isn't doing a good job.
Your Furnace Is Making Strange Noises
Generally speaking, a properly functioning furnace should run smoothly without making a lot of noise. If you hear banging, popping, squealing, rattling, especially if you've never heard that from your furnace before, it could be a sign your furnace is going to fail. Also, if you hear the blower running when it shouldn't be or if the air is cold instead of hot, your furnace may need to be replaced.
You've Had Multiple Furnace Repairs In The Last Two Years
It's not surprising that as furnaces age, they may need more and more repairs to keep running. They're like cars in this sense. And just like with cars, when the cost to repair repeatedly adds up to more than the cost to replace, then it just makes sense to look at getting a new one. Typically, furnaces have more repairs in the last two years of their lifetime than during any other time. So if you're noticing more repairs than in the past, a new furnace should probably be in your near future.
You Haven't Been Feeling Well
It's not uncommon for older furnaces to develop cracks in the heat exchanger. When this happens, carbon monoxide could leak into the home undetected. This is why it's recommended to have functioning carbon monoxide detectors on every level of your home. If you don't and haven't been feeling well, your furnace could be to blame. Symptoms of carbon monoxide poisoning include frequent headaches, nausea, disorientation, burning in the eyes or nose, as well as other general flu-like symptoms. If you or any members of your family are experiencing symptoms like these, call a technician immediately. In the meantime, air out your house by opening windows. 
Of course, a new furnace can be a big expense, so it's always best to care for the one you have for as long as you own it. Regular routine maintenance is key. Regardless, repairs from time to time are not uncommon. Repair costs can still add up. An American Home Shield® Home Warranty Plan is a smart way to protect your budget and control the hassles of repairing your furnace, as well as other household system components and appliances.
Unlike homeowners insurance, a home warranty is a service contract that covers the repair or replacement of important home system components and appliances that break down over time. A home warranty can help save you money.
Is there a perfect temperature to set your thermostat?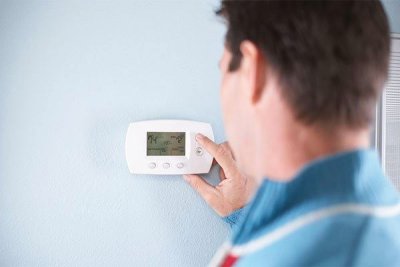 The right thermostat settings can do wonders for your energy costs. ConsumerEnergyCenter.org reports that you can save up to five percent in heating costs for every degree you lower your thermostat between 60 and 70 degrees. Many people find that setting the thermostat to 68 degrees in the winter provides a comfortable home environment and keeps heating costs under control. At the night, or during the day when everyone is away, the temperature can be set to 6-10 degrees cooler to provide more savings.
The key to making these temperature changes effortless is to install a programmable thermostat with which you can assign different temperatures to different times of day or even different days of the week. Some households have different schedules on Mondays as opposed to Thursdays, for examples. These household rhythms can be programmed into the thermostat. Your family might consider investing in a super-smart learning thermostat.
For example, if people in your household wake later on weekends, you probably won't need to raise the temperature to 68 degrees until 9am. Then on weekdays, you might like your house to be comfortably warm by 6:30am, when the earliest riser stumbles into the kitchen seeking coffee. Programming your thermostat to raise or lower the temperature according to your family's schedule can save a great deal of money—you'll never have to never heat your home more than necessary. And you'll save time, since your thermostat settings will rarely need revisiting.
You can try programming a thermostat to match your household's needs with Energy.gov's Programmable Thermostat Tool. The site notes that programming your thermostat can also help you avoid the temptation to crank up your temperature when you feel chilly. Rather than raising your home's temperature (and your heating bills), try bundling up in a warm sweater and sipping a hot drink. If someone in your household just can't live without that extra warmth, use a space heater or two to make their most-used areas of the home extra-toasty.
During the summertime, the same principles apply, just in reverse. Keep your air conditioners or central air unit set at 75 degrees or above for cost-efficient cooling. Your family's habits may allow you to keep the temperature higher. Consult your family and see what everyone is comfortable with. Additionally, a box fan can allow you to raise your thermostat by making rooms feel cooler than they are, and they cost about one tenth as much to run as an air conditioner, according to the San Francisco Chronicle.
What Is the Most Cost-Efficient Way to Heat Your Home?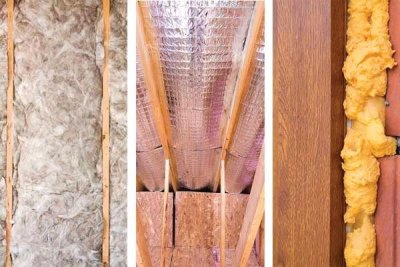 Winter weather can differ widely depending on your home's location. Winters in Southern California are temperate, while the temperature in the Northeastern United States can dip below zero with alarming frequency this time of year. Temperatures in Texas, meanwhile, can range from mild to freezing within the same season. There is no one-size-fits-all solution when it comes the most cost-effective way to heat a home. Use these tips to find the most effective way to keep your home toasty this winter.
Know your climate:
First, research the climate extremes in your area and take note. Insulation is the first place to start making changes to maximize your home's efficiency, and to choose the right insulation for your home, you'll need to be armed with these numbers. There are plenty of energy-efficient HVAC systems and heaters on the market today, but if your house isn't properly insulated, the best heater on the planet will be of little use.
Choose insulation wisely:
 Many eco-friendly insulation options are available for today's homeowners, including expanding foams, non-fiberglass insulation batts, foam boards, radiant barriers and even denim. Each has its own pros, cons and price point, so do your research and talk to a few experts before you make a commitment. Be sure to check out insulation kits for doors and windows, as well. Insulation's job is to stop the transmission of heat. An insulation product's R-value indicates how effective it will be at keeping heat from escaping your home. For example, the humble t-shirt has the same R-value number as a single pane of glass—two. Insulation is available in R-values from four to over 30. Higher numbers can be obtained by layering batts with different R-values.

Consider alternative heating methods: 
Once your home is insulated, consider alternative heating methods if the price of a new HVAC system isn't feasible. Consider an efficient fireplace, such as a corn or wood pellet stove—just keep in mind that these require permits and come with strict installation guidelines. A less expensive option would be to install a solar heating module for daytime heating. At night, space heaters can be used to heat individual bedrooms. Be certain to select the proper size of heater for each room based on square footage.
By using space heaters in only in occupied rooms, you won't be needlessly heating the entire house and lower your utility costs. Using electric blankets can also offset the cost of heating during the night.
Over time, these products can pay for themselves and their installation through energy savings. Start with a single item (new insulation, perhaps) and use the energy savings to purchase additional energy-saving products.
How To Adjust Water Heater Temperatures
If you've noticed the water temperature in your shower isn't as hot as it once was, it may be a problem with your water heater. To solve this problem adjust the temperature on your home's water heater. With these easy to follow steps you'll be able to enjoy your morning shower again.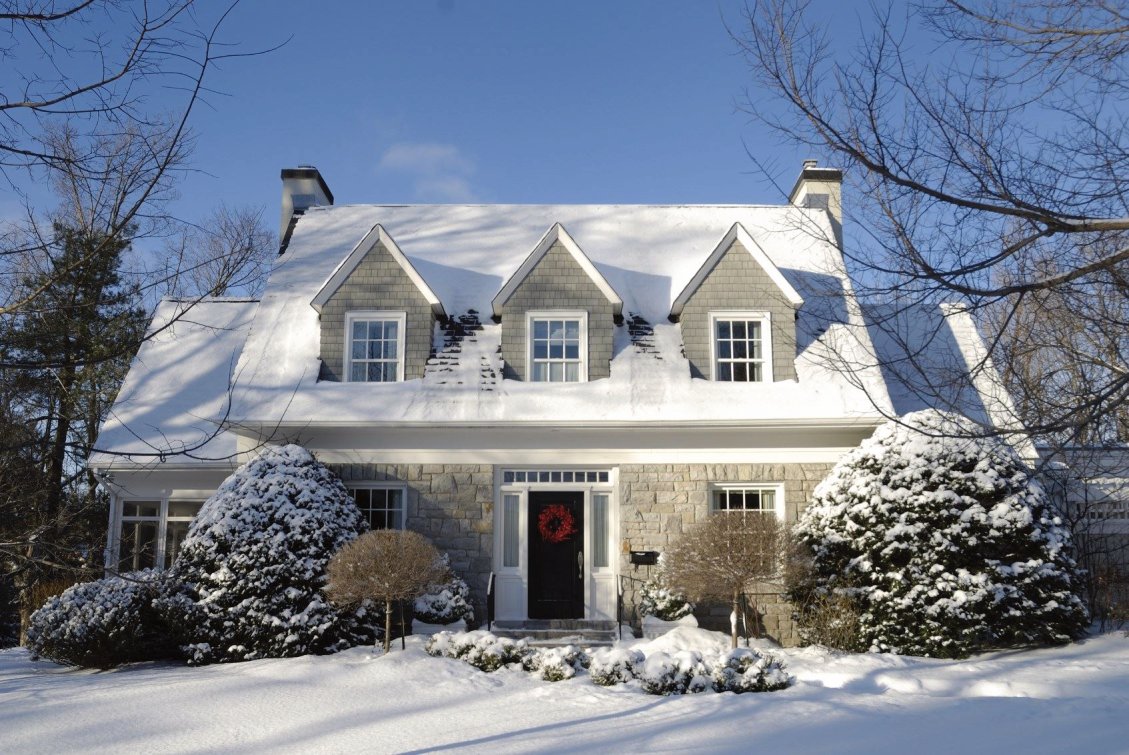 Exterior Winter Home Maintenance Tips
Trim Trees

Trim trees and remove dead branches so they do not damage your home or injure someone if they fall.


Clean Gutters

Keep gutters clear of leaves, sticks, and other debris. Make sure downspouts direct away from the foundation.


Handrails and Steps

Repair steps and handrails inside and outside to ensure safety and prevent slipping or falling.


Water Leaks

Check for water leaks and fix problems immediately. Learn how to shut off your water and know where your pipes are located in case they do freeze; you may be able to prevent water damage.


Weather Stripping

Adding weather stripping around doors and caulk windows is an excellent way to guard against drafts and heat loss.


Storm Windows

If possible, remove screens from windows, and install storm windows. This will help with heating costs and protect your windows during particularly bad storms.


Smoke Detectors, Alarms & CO Detectors

Check smoke detectors, fire alarms and carbon monoxide detectors and replace batteries to ensure they are operating properly.

Don't Get Stuck 
with Frozen Pipes 
this Winter
For many parts of the country, the holidays bring cold temperatures along with festive celebrations. Frozen pipes that burst and cause water damage can put a damper on holiday merriment and can cost thousands of dollars in repair as well as hours of your precious holiday vacation time. Here are a few tips that may help you avoid frozen pipes – and frustration – this winter:
When it gets really really cold, remember your plumbing pipes

Plumbing pipes can freeze during times of extreme or prolonged cold temperatures. Thankfully, that doesn't happen very often here Charleston! But on the infrequent occasion when it does get really really cold here, you'll want to be alert and prepared.


Be prepared -- insulate your pipes

Before cold weather hits, insulate your plumbing pipes when you have a chance. If you copper plumbing pipes, this material is more likely to freeze and then burst than other types of materials, like PEX or CPVC. If you have a newer home (say built in 2000 or newer) or if you've had plumbing repairs in recent years, you likely have PEX piping (distinguished by their red and blue color). If this is the first winter in your home, be sure to look in your home inspection report or in your crawlspace to see if your pipes are insulated. If you recently purchased a brand new house (2014 or newer), your plumbing pipes are already insulated. Pay close attention to pipes in outside walls (for those who live in downtown Charleston), garage, attic or crawlspaces. If you need to add insulation, ask your local hardware or home store professional for recommendations on the best materials for your needs.
When it does freeze outside, let faucets drip

When temperatures drop to on or around freezing, be sure to let one or two faucets in your home drip to keep the water moving and to help prevent frozen pipes. A steady drip or small trickle is best. According to the Federal Emergency Management Agency (FEMA), even if pipes freeze while trickling they will be less likely to burst from the pressure because they are open.

Also, pay attention if you notice that water pressure in any of your faucets begins to decrease during the winter. Low water pressure might be an early sign that the pipes are beginning to freeze.
Open Cabinet Doors

During really cold temps, be sure to open cabinet doors where your plumbing pipes are located to increase the flow of warm air. This includes the cabinets under the kitchen sink, bathroom sinks, laundry room sinks and wet bar sinks.
Outside Water Facuets

Outside water faucets are especially susceptible to freezing. Always unhook water hoses and store them for the winter. Consider covering the faucets with insulated sleeves or jackets that you can find at hardware and home improvement stores. **Don't forget to winterize automatic sprinkler systems and pool lines and pipes.

Home Temperature

While it's always smart to be energy efficient with your heating practices, don't make the mistake of turning your home's temperature down so far that you put your pipes in jeopardy. Keep your home's thermostat set at 55 degrees or above in the winter, even if you're away from home. If you're away for several days during extreme cold, ask a trusted person to check on your home and pipes while you're gone.

Water Shutoff Valves

Know where your water shutoff valves are located so that in case a pipe bursts you can stop the water flow as quickly as possible. In an emergency situation in which water is gushing out, you don't want to waste time searching for the correct valve.


Keep Garage Door Closed

In the winter, it's a good idea to keep your garage closed when you're not moving a car in or out to increase warmth. Make it a habit to close the garage door when you enter or exit to preserve heat and save on energy use. This will also help protect any pipes that may run through the garage area.


What to do if your pipes freeze?

The most common indicator of a frozen pipe is that a faucet won't flow or a toilet won't flush, but pipes can also be frozen without those indications too.

If you have one or more pipes which freeze, proceed very carefully because it's actually when a pipe thaws that it usually bursts. Thawing a pipe too quickly can cause more harm than good. While you may have success thawing a frozen pipe slowly with a hair dryer, a heat lamp, hot towels, or electric heat tape, it's probably safest to call a qualified plumber or repair professional for help. Never attempt to thaw a frozen pipe with a blowtorch or any other tool that has a flame, which can be very dangerous.

Check your homeowner's insurance to find out what kind of coverage you have in the event of water damage from broken pipes (and the amount of any deductible). Know in advance what steps you'll need to take to provide proof of damage, obtain an estimate and file a claim.
If your home sustains water damage from a broken pipe, it's important to get a qualified restoration professional to the site as soon as possible to categorize the type of water and begin appropriate clean-up steps. It's important to start water mitigation as soon as possible to maximize structural drying and dehumidification to minimize damage. Letting the water sit will likely only complicate and possibly prolong the restoration process. Many disaster restoration professionals offer 24-hour emergency services so they can respond to water damage situations quickly.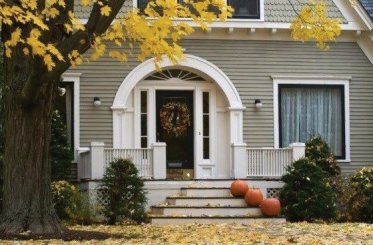 Fall Maintenance Musts
Use these ten easy fall maintenance projects to keep your house in peak condition through the winter.
Check for Peeling Paint

Inspect the exterior to see if any paint is deteriorated, peeling or blistering on the siding (for those who have wood siding), trim, railings and door/window frames. Even if you have fiber cement siding, you can still have wood railings and trim and those are susceptible to wood rot over time if not well protected from the weather with a good coat of paint. Repair any wood rot you see to ensure that the area is weather tight since water can seep thru wood rot and into your house (this is very common at door and window frames).
Clean the Gutters & Dryer Vent

After leaves have fallen, clean out the gutters and downspouts and flush them with water -- this is especially important in the fall to prevent tree debris from building up. Also, be sure to inspect joints and tighten brackets, where needed. Replace old or damaged gutters with new ones that have built-in leaf guards. Importantly, you'll want to clean the clothes dryer exhaust duct and space under the dryer. Remove all lint, dust, and pieces of material to prevent possible fires.


Caulk Windows & Doors

Be sure to caulk around windows and door frames to prevent cooled and heated air from escaping. "Caulking and sealing openings is one of the least expensive maintenance jobs," says Michael Hydeck, Hydeck Design Build, Inc., Telford, PA, and National President, National Association of the Remodeling Industry (NARI). "Additionally, openings can allow water to get in and freeze and can result in cracks and mold," he says. For drafty doors, install or replace damaged weather stripping to ensure a weather tight seal.


Inspect the Roof

Make sure the roof is ready for the winter by looking for missing and loose shingles that need to be replaced. You may want to hire a professional roofer to walk the roof to ensure all missing and damaged shingles are identified where its hard to see from the ground. "Rain, wind, snow and ice combined with rapidly changing temperatures and humidity wreak havoc on roofs," says Jay Butch, Director, Contractor programs for CertainTeed Roofing. "Your roof is your first defense in protecting your home. It's better to proactively deal with repairs in the fall than to discover a leaky roof during a storm."


Ready your HVAC & Fireplace

As soon as the weather starts to cool off, its a good idea to have your HVAC system checked by a licensed HVAC contractor to ensure all is working as it should before the weather gets really cold. HVAC systems will run more efficiently, last longer and have fewer problems if serviced regularly and the air filter is changed frequently, ideally once a month. If you have a portable window air conditioning unit, remove it from the window or place a waterproof cover over it to prevent damage. And be sure to have the chimney cleaned as well so you can enjoy your fireplace for warmth and ambiance throughout the winter.
Reverse Ceiling Fans

Change the direction of your ceiling fan to create an upward draft that redistributes warm air from the ceiling.


Indoor Painting

Fall is a good time to do some indoor painting. The weather will still be warm enough outside to leave windows open to ventilate during painting. After painting is done, make sure your leftover paint is stored in a heated area of your home, like a garage, to prevent it from freezing.


Test Smoke/CO Detectors

Make sure all smoke and CO detectors and security systems are working properly. Replace batteries if needed.

Check Electrical Outlets

Check electrical outlets for potential fire hazards such as frayed wires or loose-fitting plugs. Be sure not to overload electrical outlets, fuse boxes, extension cords or any other power service.
Insulate Water Pipes

Insulate water pipes in areas exposed to cold temperatures, and turn up the thermostat during extra cold periods.


Light Up the Exterior

With dark days ahead, exterior lighting is very important for finding your way and for safety. Check all your bulbs and consider using timers to turn lights on at dusk and off in the morning.

Prepare Deck for Winter

Clean porch and deck furniture, and look for any needed repairs. Cover and store outdoor furniture and barbecues in a protected area. Make sure all soil is emptied from pots and planters. Dirt left in clay pots can freeze and cause the pots to crack if left outside.
Drain your Sprinkler System

You'll want to be sure to drain the sprinkler system so that water can't freeze during low temps. Your sprinkler service will likely charge $50 to $150 to winterize your system.



Fertilize and Reseed the Lawn

Although grass appears to stop growing in the fall, the roots are actually growing deeper to prepare for winter. You'll also want to prune your trees and shrubs after the leaves turn to encourage healthy growth in the spring. Be sure to keep flammable materials, including all lawn and power equipment, stored safely away from water heaters and wiring.











0

/